---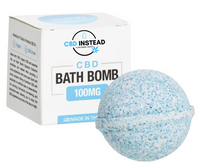 QUESTIONS & ANSWERS
Have a Question?
Be the first to ask a question about this.
Ask a Question
What are CBD Bath Bombs?
We offer CBD Bath Bombs for sale that contain 100mg of CBD extracted from industrial hemp stalks. CBD bath bombs are essentially like regular bath bombs, but with the additional benefits from CBD therapy. Bath bombs are designed with outer layers of baking soda and citric acid that react with bath water to give you a colourful fizzy explosion releasing CBD, and essential oils. CBD bath bombs engage the CBD receptors through your skin, heightened by the moist and humid nature of bath time. This is a great way to utilize CBD's anti-oxidant properties, to help combat free radicals that are associated with skin damage. Internally, CBD promotes homeostasis, regulating and maintaining modulation of the systems In your body. Our products come with a choice of scent, each essential oil chosen mindfully to serve an intention, such as healthy sleep or releasing bodily tension. These CBD Bath Bombs are a convenient and enjoyable way to self-care, and are meant to facilitate an experience that promotes overall wellbeing and relaxation.
Why Buy CBD Bath Bombs?
It has become increasingly common that consumers are looking for CBD bath bombs for sale , and if the craze has reached you, you may be wondering what it's all about. Simply put, CBD bath bombs are a great holistic product to help attain ultimate relaxation! Bath bombs are already a great practice of self-care and romance, and we use 100mg of CBD in each one, to facilitate a heightened wellness experience. The CBD molecule has properties that lends themselves to the general idea of using bath bombs. It is an anti-inflammatory, anti-oxidant, can provide pain relief, and induce REM cycle for a healthy and restful sleep. Whether CBD is already a big part of your life or you want to dip your toes into the CBD waters slowly, these CBD Bath Bombs are designed to become a meaningful addition to your routine. We, at Calyx Wellness, are dedicated to helping you find peace in your daily life and enhancing your wellness routine with cannabinoid therapy.
CBD Bath Bomb Benefits
CBD therapy is well-rounded and versatile! CBD tinctures, capsules and lotions have become everyday household items, and their purpose is to enhance your overall wellness experience and promote homeostasis in your body. Research suggests that CBD modulates many physiological functions in the brain and body, through the endocannabinoid system (ECS) and other mechanisms. The ECS is made up of several receptors that react only to cannabinoids, such as CBD. We offer CBD Bath Bombs for sale that essentially enhance the benefits of relaxation and pain relief that one is typically looking for when drawing a long warm bath. Additionally, there is the added benefits of each essential oils holistic profile, such as lavender in our 'Lullaby' bath bomb. Lavender is traditionally used in aromatherapy for its medicinal properties that make is sedating, and antibacterial. It is commonly used for uplifting moods and releasing tension, which makes it the perfect sleep aid. This works synergistically with CBD's ability to induce REM cycle sleep and regulating natural circadian rhythms. Externally, these 100mg CBD Bath Bombs leave your skin hydrated and smooth.