---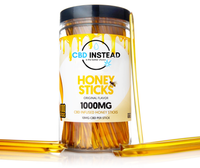 QUESTIONS & ANSWERS
Have a Question?
Be the first to ask a question about this.
Ask a Question
CBD Infused - Honey Sticks - 1000mg (100 Pack) are the perfect combination of natural honey and CBD hemp oil. Free of THC, delicious CBD Honey Sticks provide a fast and convenient way to get your CBD anywhere. This CBD-infused honey treat is sure to satisfy any sweet tooth, whether eaten directly or put in a hot tea. Coming in a pack of 100, each stick is infused with 10mg of pure CBD hemp oil harvested from organic industrial hemp plants.
CBD Infused Honey Sticks are composed of 100% natural CBD and all natural honey.
Get CBD Honey Sticks Honey Infused CBD 10mg [100-pack]... the sweetest way to take your CBD.
What are CBD honey sticks?
CBD honey is a natural sweetener infused with hemp extract. The full-spectrum CBD hemp oil is extracted from the hemp plant, then infused into the honey. We then package our CBD honey into sticks for convenient use of one serving at a time. Edible products are many people's favorite way to take CBD. Rather than using an oil tincture or water soluble product, edible products are a tastier way to consume CBD.
How do you eat CBD honey sticks?
CBD honey sticks can be opened and mixed into tea or coffee or squeezed onto your favorite treat, but you can also squeeze them directly into your mouth. Any way you eat them, our CBD honey sticks are always a tasty treat and a great way to get the benefits of CBD.
How long does it take for CBD honey sticks to work?
Edible CBD products are the slowest way to absorb CBD into the bloodstream, so it can take a while after eating an edible CBD product before the effects of CBD are felt. However, the time-to-absorption is different for everyone depending on their body and whether or not they've eaten recently. 
What do CBD honey sticks do?
Each CBD honey stick provides your body with 10mg of CBD. CBD may help support cartilage and joint function, provide positive mental support, help improve mood, promote relaxation, help maintain immune system and cardiovascular function, and provide relief for mild discomfort. CBD may also help with trouble concentrating, difficulty sleeping, and help remove impurities from the body. 
Do CBD honey sticks contain THC?
THC is the cannabinoid that is known for its "high" or psychoactive effect. Our full spectrum CBD honey sticks contain <0.3% THC content in compliance with the legal limit and produce absolutely no psychoactive effects. We also offer a lab-tested and guaranteed THC-free version of our CBD honey sticks. If you live in a state that prohibits THC at all levels, you will only see the THC-free version available for purchase.